Congratulations on your engagement and up-coming wedding. On your special day, we realise it's all about you, having the time of your lives and a day you will never forget!
Here at Surrey DJ we pride ourselves on reputation and customer satisfaction. This is why we only have the best wedding DJs on board and take extra measures to ensure they are of the best.
With our years of experience in wedding discos we provide advice and guidance for your day to help you as much as possible by providing detailed plans with key stages vital for weddings.
We realise your wedding is all about you and your ideas which is why we listen and make sure all your requirements are met.
We make sure the disco will be designed to your needs and include those personal touches that make your day that even more special.
Most importantly your wedding DJ will be best suited to you and your guests. We do this by asking a number of questions to find out what music would be tailored to you, your friends and family, then choose the DJ accordingly.
Although we are wedding DJs in Surrey, we also provide our specialist wedding DJs throughout the South East, including London, Kent, Hampshire, Essex, East & West Sussex.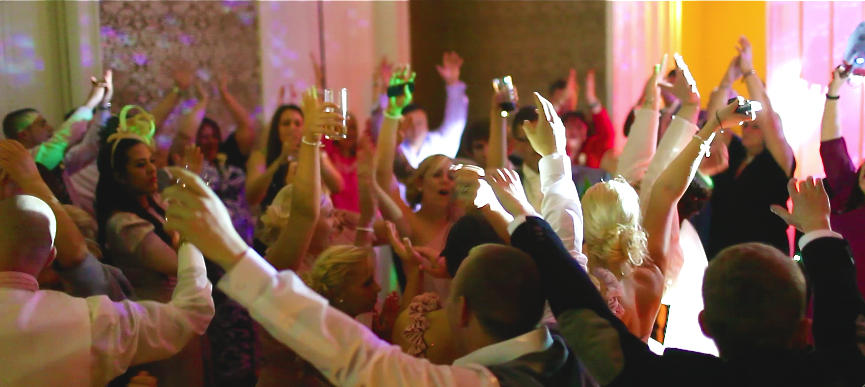 Specialist wedding DJs:
Our DJs for weddings specilise in their field, due to their great deal of experience they know what works best in terms of music keeping guests happy throughout and dance floors filled from start to finish.
There are many key factors that make a impeccable wedding disco and we make sure all are covered to ensure each and every wedding is a success.
Music
When it comes to the evening celebrations, we would like it done to how you would vision, with the selections of music exactly to your tastes.
This is why we make sure we find out your tastes beforehand, all the work we do leading up to your day ensures the selection of music played will be best suited and personal to you, your friends and your family.
We provide lists of songs that from our experience we found work well for weddings. This is to give you an idea of what tends to work well but all weddings are completely different which is why it is just a rough guide.
On the day we make sure we have large music collections, ranging through the decades and all the latest chart music. This is so we have the song requests on the night, which are only played to your guidance, discussed in advance.
If you need us throughout the day we can also provide background music custom to your tastes and make sure music is to the levels where all guests are happy.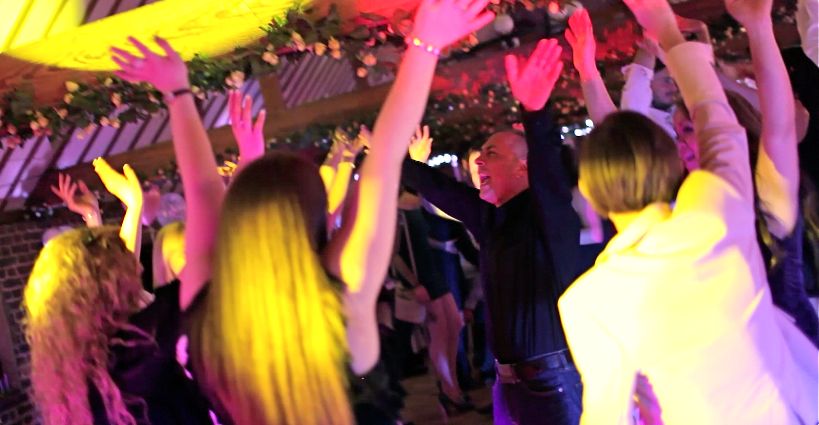 Presentation & appearance
Image and presentation are of the utmost importance for weddings we make sure all our DJs are smart, well presented and have the attire to suit.
Not only are the DJs well presented but also the equipment is to the same standard. We use the highest quality DJ booths with star cloth fronts that neatly surround the edges of the booth, also cables are kept to a minimum, neatly tied down and fastened. We tend not to use the regular means of lighting with stands where the DJ is surrounded by lighting fixtures it tends to looks untidy, this also prevents the DJ being seen. Instead we tend to place stands and lighting fixtures behind the DJ, which looks far more professional.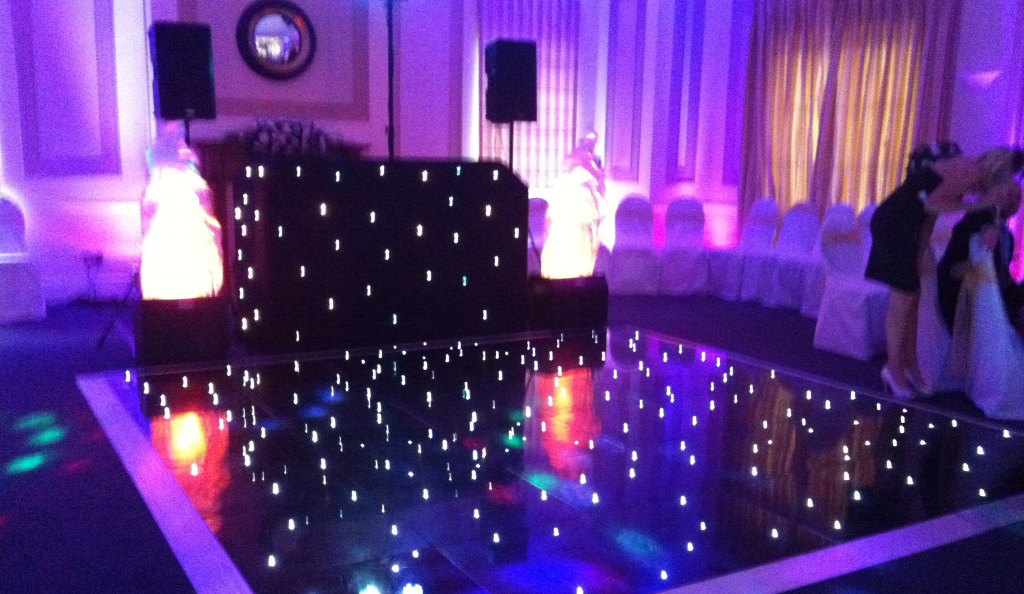 Wedding schedules:
Nothing is left to chance on this important day. With 9 pages of key details to help you plan your wedding in our schedules, we make sure nothing is forgotten.
In the schedules we also include a timeline so when it comes to your big day there is less need for you to worry about keeping to time.
Rather than you asking us to announce or insinuate a particular stage. Instead we just announce when need be as we will have the timeline provided, if the key stage involves yourselves we ask you if you are ready to do the particular stage in the schedule. This helps you relax and enjoy yourselves rather than constantly worrying about keeping to time.
We also provide advice on how each stage runs best also which orders work best.
In with the schedule we also provide options for you to choose how you would like to be announced and in what manor.
We make sure we have all the details such as mothers, fathers and best man names when it comes to announcing if need be.
Advance preparation:
Preparation in advance is extremely important to ensure everything is going to go to plan and there will be no hiccups on the day, we arrange in advance:
The DJ setup area in the venue.
Power compatibility with our equipment.
Full planning with schedules.
Full music details are taken from yourselves.
We make sure the venue terms are met such as insurance documents for public liability cover and portable appliance test equipment certificates.
We liaise with your venue to ensure the setup will be compatible with their venue also discuss their general layout and plans for the day.
Your personal touch:
Personal touches include:
Planning of the day to your personal layout.
The music you would like for the evening including background music personal to you.
The equipment you would like to be used we have choices of white or black star cloths, white or black dance floors, white or black speakers, various coloured up lighting or disco lighting.
If you would like wedding images projected, the certain images, or shapes you would like, even the colours of the lighting you would like to match your theme.
Which equipment you would like for the day (View the additional extras section)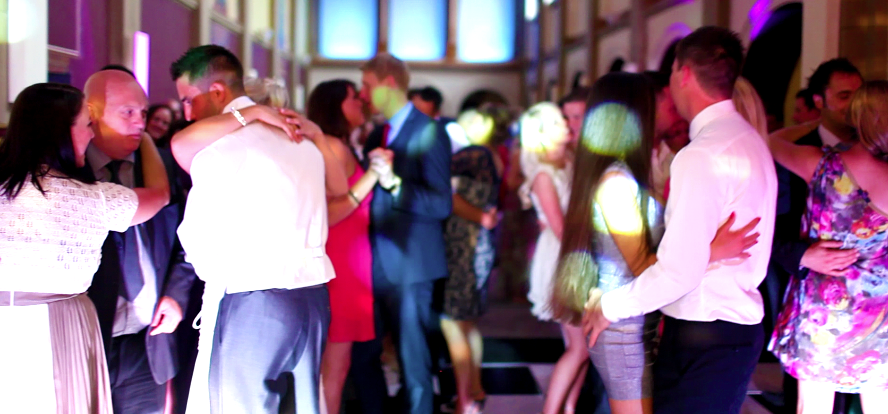 Safety documents:
All legal and safety documents are included, these are often these are asked by the venue to ensure safety.
We make sure all these details are covered far in advance and lease with your venue so nothing is left to chance nearer to the time.
With all the necessary legal documents that venues expect you can be rest assured there your planning process with be glitch free that gives you reassurance when it draws near to the big day.
Reliability & Reassurance.
Our wedding DJs are tested on performance and are 100% reliable. Due to having worked with us for years with 100% reliability, we can guarantee this to you the customer.
Written contracts when booking and confirmation emails.
Contact through phone and emails, Monday to Friday 9 – 5.30pm.
Out of hours contact numbers encase of contacting in urgency's.
You have the peace of mind and reassurance when booking with us in the unlikely event your DJ was to fall ill we would provide one of our other wedding DJs to the same standard as a replacement.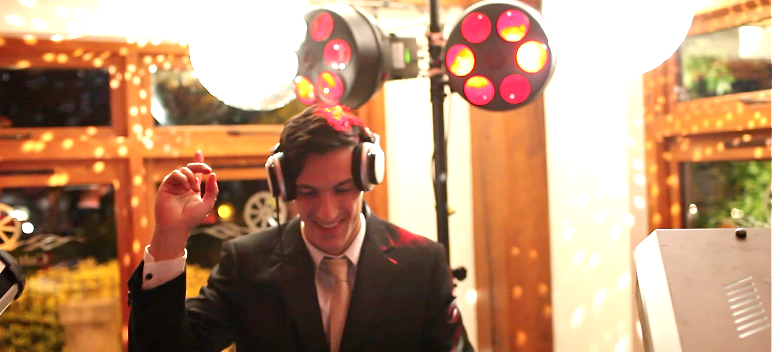 Additional extras you may need we can offer:
When it comes to weddings there are quite often needs for equipment you may have not considered, as we have a equipment hire department we can provide equipment alone or included with our wedding discos, when hiring equipment with a disco you can save up to 60% as you may already be having a pre visit to the venue, the setup and the dismantling of equipment as it is.
Through leasing with yourselves and the venue we can find out if you will need our PA systems for your speeches or background music during your meal or just up lighters to wash walls with colour.
Examples of the extras, which you may need:
A PA system, for the ceremony where a PA system is not provided by the venue.
A PA system with wireless microphone, for the speeches if this is not already installed into the venue.
A PA system, for the background music during the wedding breakfast or buffet if this is not already installed into the wedding reception venue.
Extras, which are so important, although provide that personal touch and enhance the visual appearance of wedding venues:
Up lighting / mood lighting: lights that are placed to the sides of the rooms, these wash the walls with the colour you specify. They have a visual impact and dramatically transform venues.
Projectors and screens, to display any video or imagery even the pictures taken throughout the day at your reception.
Flame machines that are over 6ft high, they are realistic effects that are perfectly safe. They create movement in the room and are one of the effects we have customers comment on the most.
Lighting projections that can be static, slow moving or rotating, these create a slow movement in the room during your wedding breakfast or buffet. You can personally select the shapes and colors you would like projected from our selection, or even have your own shapes designed then projected in our lighting effects.
Others include: Full colour laser lighting shows, Classic 70s disco mirror balls, hazers, UV Lighting, bubble and snow machines.
So you know our Wedding DJs cover the entire Southeast from: Surrey, Kent, East Sussex, West Sussex, Essex, Hampshire & London.
Looking for a Wedding Venue in Surrey?
Surrey Wedding Venues